From tornadoes, hurricanes, hailstorms, and summer thunderstorms that bring driving wind and rain, storms can wreak havoc on roofs and other exterior home surfaces. Roof wind damage is caused by strong winds that can lift and blow shingles, tiles, or other roofing materials off of your home. Southeast Michigan is not immune to bad weather conditions. If you're concerned about potential roof damage from the wind on your asphalt shingle roof, here's a crash course on how to spot signs of roof damage
Signs of damage after a storm
Missing Shingles: This is one of the easiest ways to spot wind damage. Shingles being ripped off can leave your home vulnerable to water damage.
Cracked, Torn, Or Curled Shingles: Shingles can curl from strong winds. Also, any loose edges can allow water to reach the lower levels of your roofing. Winds can cause shingles to be lifted up and then cracked or torn if they are not fully ripped.
Debris On Your Roof: This is normally a noticeable form of damage. The debris is mostly tree branches but can be other objects as well.
Lines On Your Roof Where Granules Of The Shingles Have Worn Off: These granules tend to gather in your gutters.
Stains And Peeling Paint On Walls And Ceilings: This is a sign of water damage. If your shingles are no longer fully intact, water damage is extremely likely. Furthermore, This is the easiest ways to spot water damage caused by wind damage. However, by the time you notice these spots, the water damage can be quite extensive in your roof and home.
Water Spots Or Mold In Your Attic: This is another sign of water damage caused by wind damage. However, it is also a sign that the damage has been around for a while and can require intensive repair.
If you have damage on your roof, you will need to file an insurance claim. Here is a helpful checklist you can use.
In general, most roofs are designed to withstand wind speeds. However, wind doesn't always move in a steady, smooth stream — it swirls up, down, sideways and in circular patterns at various speeds causing unforeseen damage to property.
According to the National Weather Service, this chart gives a few good examples of the speed of wind vs. what damage can occur:
| | |
| --- | --- |
| 25 to 31 mph | Large branches in continuous motion. Whistling sounds heard in overhead or nearby power and telephone lines. Umbrellas used with difficulty. |
| 32 to 38 mph | Whole trees in motion. Inconvenience felt when walking against the wind. |
| 39 to 46 mph | Wind breaks twigs and small branches. Wind generally impedes walking. |
| 47 to 54 mph | Structural damage occurs, such as chimney covers, roofing tiles blown off, and television antennas damaged. Ground is littered with many small twigs and broken branches. |
| 55 to 63 mph | Considerable structural damage occurs, especially on roofs. Small trees may be blown over and uprooted. |
| 64 to 75 mph | Widespread damage occurs. Larger trees blown over and uprooted. |
| 75 +  mph | Severe and extensive damage. Roofs can be peeled off. Windows broken. Trees uprooted. RVs and small mobile homes overturned. Moving automobiles can be pushed off the roadways. |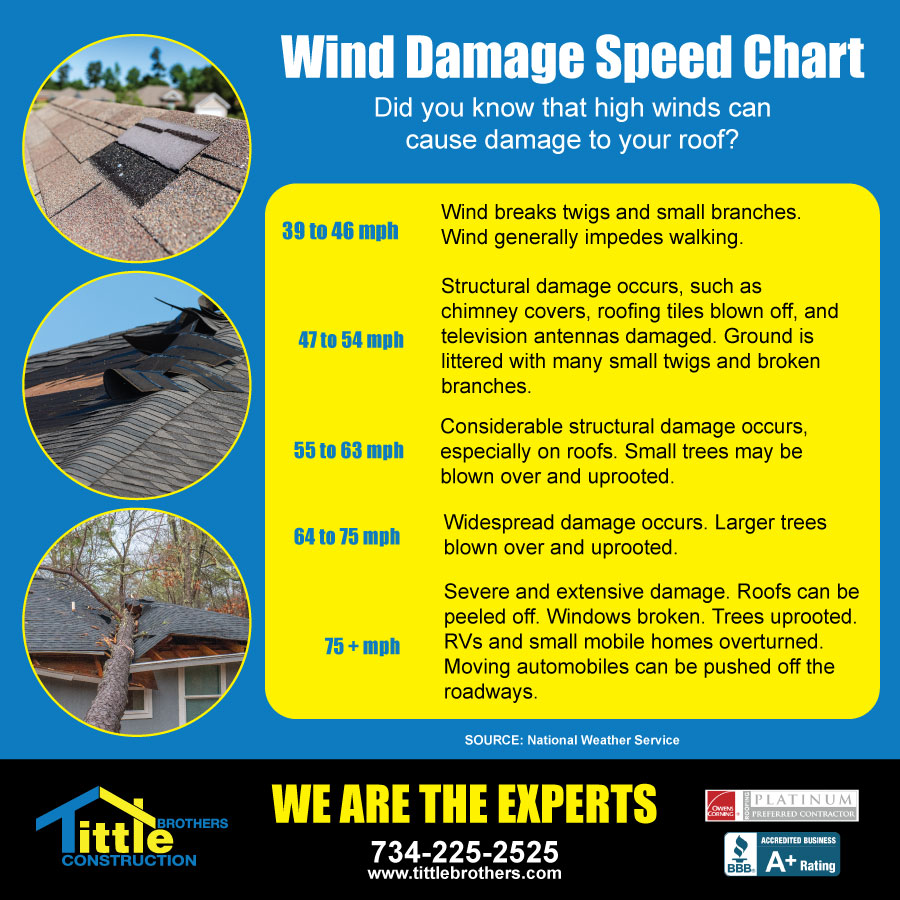 If you have experienced a wind storm recently in your area, your shingles could have sustained extreme damage, leaving your home susceptible to additional damage. Rule of thumb: If the strong winds caused roof damage and it was above the wind speed written in your shingle manufacturer's warranty, you can file a claim with your home insurance company. If the wind speed was below the wind coverage, you'll want to contact the shingle manufacturer directly to file a claim.
In the aftermath of a hailstorm, it's important to get your roof checked for damage. Hail falls in random patterns and therefore may only damage a few houses within a neighborhood, so your roof may have damage even if your next-door neighbor's roof doesn't.
Signs of property damage from hail:
Plants stripped of their leaves
Dents in cars
Damaged air conditioner units, or
Evidence of damage to other exterior furnishings
Potential signs of roof damage from hail:
Other collateral hail damage around the house; dents on cars or other items on your house or in your yard.
A distinct pattern of small round-shaped divots on the edges of the shingles.
Indentations in the shingle where granules are missing.
A large pile of granules at the end of your downspout; a small amount is normal, especially on new shingles.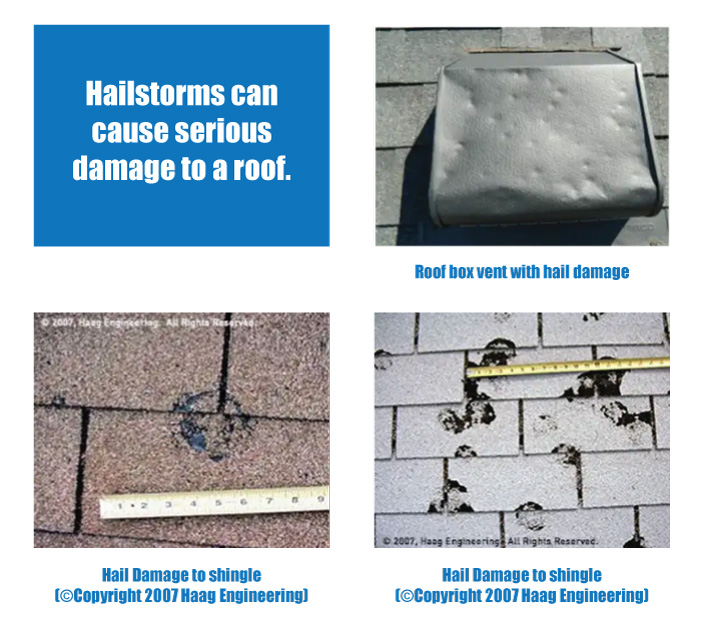 During some storms tree branches or other failing debris can land on your roof. If you have damage from debris on your roof, you will need to file an insurance claim.
Potential signs of roof damage from falling debris:
Visual identification of debris on the roof deck
Missing shingles
Cracked shingles
A large pile of shingle granules at the end of your downspout; a small amount is normal, especially for new shingles.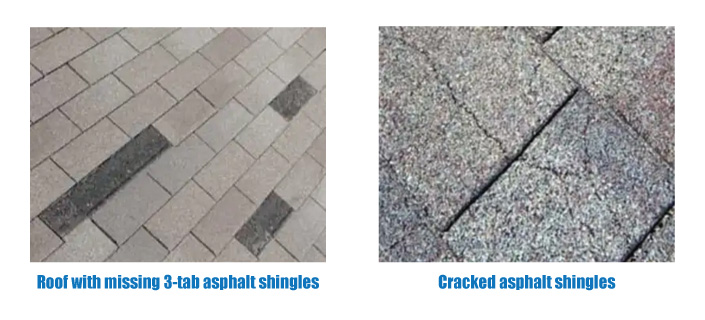 A Trustworthy Roofing Contractor
Get in touch with a trustworthy roofing contractor who provides top-notch services. Every insurance has its own set of rules, restrictions, and coverage policies. A reliable roofing contractor must have the proficiency to identify the extent of the damage and guide you in filing a credible claim. At Tittle Brothers, we provide comprehensive roofing solutions tailored to your specific needs. Connect with us to book a free consultation.