Do You Know What it Costs to Paint Your Home?
If your home's exterior is fading, peeling, cracked and in need of rejuvenation, you can go through the process of scraping and painting again or you can choose to wrap your home in attractive, no-maintenance vinyl or fiber cement siding from Tittle Brothers Construction.
Is siding worth the investment? Is painting your home once again the best option? You decide, based on the comparison below.
Real estate and construction experts agree that your home's exterior should be painted at least every 8 years, and more often in a humid climate like Michigan's. Costs can quickly add it.
Can you afford to spend more than $5,000 every 8 years or so just to keep your home's exterior looking good? Durable, low-maintenance vinyl siding is an excellent investment that can actually save you money while eliminating the time you need to spend caring for your exterior.
When it comes to siding the exterior of their homes, homeowners turn to the experts at Tittle Brothers Construction for the highest quality materials and best service.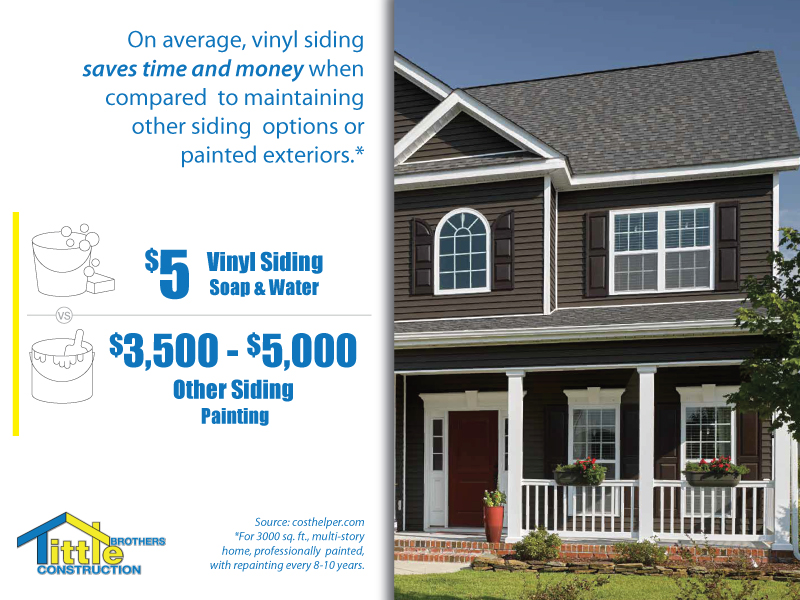 Vinyl Siding Adds Value To Your Home
Some of the advantages of adding vinyl siding in homes include:
Reducing heating and cooling costs by increasing the value of your home's exterior. New insulated vinyl siding products are even more energy efficient.
Eliminating the high cost – in time and money – of scraping and painting your home every few years.
Enhancing the beauty of your home with attractive siding that will not fade, chip, peel or flake. Making your home easier to maintain. 
Avoiding the growth of mold and mildew on your home's exterior walls.
Limiting the intrusion of airborne pollution and noise, making your home safer and healthier.
Increasing the resale value of your home.
Vinyl siding on your home can make it more attractive and easier to maintain. It can also save you time and money. Siding from Tittle Brothers Construction can add insulating properties to your home that help reduce energy consumption and lower your monthly heating and cooling costs.
When you factor in ease of maintenance, beauty, additional value and energy efficiency, vinyl siding in Michigan from Tittle Brothers Construction makes great sense for your home. Contact us today for a free estimate.