Repairing or replacing a roof isn't the home improvement project most homeowners want to spend their hard-earned money on, but it may be less painful than you think.
Whether you've experienced storm damage and need repairs or your entire roof is nearing the end of its useful lifespan, Tittle Brothers Construction is dedicated to providing you with the facts you need to make an informed decision about getting a new roof or repairing your current one.
As the greater Detroit area's top roofing contractor, Tittle Brothers Construction is proud to offer our customers transparency and honesty about the roof repair or replacement process.
Request A Free Estimate. No Obligation To Buy Anything.
The Cost of Roof Repair or Replacement
The fact of the matter is that roof replacement costs vary on a case-by-case basis.
That can make it seem like it's hard to budget for roofing costs, but it's important to understand the various factors that can affect your individual roof repair or replacement costs.
Type of Damage: If your house has recently weathered a major storm and you're dealing with hail damage, for instance, those costs can be very different than the cost of replacing an old roof due to age.
Type of Repairs: Shingle replacement, for instance, can be fairly minor roofing project, while the cost of a new roof will naturally be much higher.
Roof Pitch: A steep roof will require more labor than a flat roof due to more staging for safety concerns. Additionally, a high-pitched roof may need a different underlayment system.
Roof Age: An old roof may have more underlayment damage than a new roof, which requires more materials and labor to fix.
Square Footage: More surface area means more materials—and more work.
Type of Roof: From asphalt shingle roofs to clay tiles, the cost of materials per square foot can vary greatly. Whatever roof type you choose will impact your final price because of the roofing materials themselves and the installation method.
Labor Costs: The cost of roofing materials is completely separate from the cost of paying our roofing experts to do the work.
Contingencies: On occasion, issues can arise in the roof repair or replacement process that make additional materials or labor a necessity.
Permits: Your town may require a permit for home improvement work like this; permits are typically a few hundred dollars.
Extra Fees: You may need to pay additional fees for dumping materials, like old shingles.
You can look at the national average to get an idea of a price range, but the only way to truly know what you should expect is to get your own roof inspection.
Get a free roof repair or replacement estimate from Tittle Brothers Construction.
When you need roof repair or replacement, the first step is to get an inspection. Tittle Brothers offers free, no-obligation inspections for all potential roofing customers.
Our professional roofers will closely inspect your roof for damage and give you a detailed, written estimate. Our estimates can help you plan for the costs of replacing or repairing your roof.
To get started, call Tittle Brothers Construction for your free inspection and estimate today!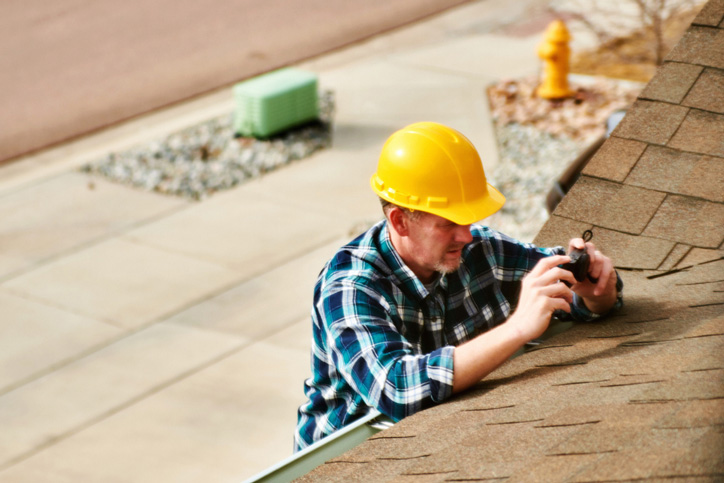 Making a Claim on Your Homeowners Insurance
Most homeowners want to know if they can use insurance for roof repair or replacement. We don't blame you!
We can't know if your insurance company covers repair or replacement; only your policy and agent can tell you that. You should read your insurance policy closely to find out coverage limitations and if you'll get full or partial reimbursement.
Additionally, make sure that a representative from your chosen roofing company is present when your insurance adjuster inspects your roof to make sure you're getting a fair assessment for the amount of work your roof will need.
No matter what your insurance company says, Tittle Brothers Construction will work to find the right roofing solution for you.
Roof Warranties
Here at Tittle Brothers Construction, we want to help our customers get the roofing solution they need.
We believe that a strong roof warranty is a must for any repairs or replacement that you order. That's why we offer some of the best warranties in the roofing industry that cover both your roof and our workmanship.
With our lifetime transferable warranties, you can rest assured that your investment in repairing or replacing your roofing system will be protected for decades to come.